What to photograph today?
In just a decade, mobile phones with buttons have evolved into full-featured multimedia devices, with which you can make calls, write messages, go online, watch movies, play, listen to music and, of course, take pictures. Modern smartphones have replaced compact cameras. Their additional advantage is the ability to quickly share images on social media.
The iPhone is a symbol gadget. After the launch of the new model, the kilometers queues align behind it. It was the iPhone camera that set the bar high in the world of mobile photography.
We are all familiar with the Canon photogiant, which introduces more and more advanced equipment on the market every year: video cameras, printers, compact cameras, SLRs and mirrorless cameras. Today, the company covers the entire cycle of image creation, from photography to printing.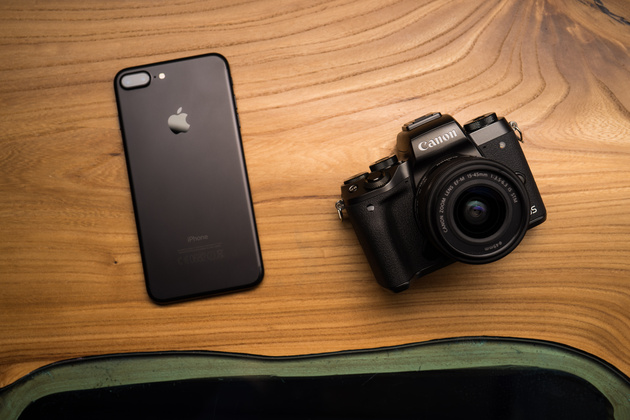 The question arises: what is better to photograph? In which cases you can choose a smartphone and in which room more suitable?
thank you iPhone 7 Plus set a record: nearly 80 million Apple smartphones sold for the quarter. It is not known what proportion came in the new generation iPhone 7 Plus, but it is clear that the new product is in high demand. To get a gift for iPhone with a large amount of memory and in the hottest color of the Jet Black season ("Black Onyx"), everyone probably dreams.
What is the secret? First of all, the iPhone is very easy to use. Second, it has an excellent design. Third, here is one of the best mobile cameras.
The iPhone 7 Plus has a dual-lens camera: standard wide-angle optical image stabilization, F1.8 aperture and 28 mm focal length and 56 mm (35 mm equivalent) portrait with F2.8 aperture. The latter can also be used as a dual zoom lens. The dual photo module is only in the Plus version, in the usual "seven" were limited to a wide-angle camera.
iPhone 7 Plus can be magnified twice: by clicking a special button in the app, you can get a double optical zoom. Most smartphones only have digital zoom.
The main thing is, however, that in the photography application a portrait mode has appeared, allowing you to make portraits with belts and classics, with a beautiful blur of the background.
In addition, manual settings and RAW shooting are available in third-party applications.
The Canon EOS M5 is the flagship of the EOS M. mirrorless camera line. It is a compact, but advanced, camera with 24 megapixel CMOS sensor and Dual Pixel CMOS AF technology, which ensures fast and precise focusing even in low light conditions. Among the features of this model is a built-in electronic viewfinder, which forms a clear image suitable for manual focus. Inside, the Canon EOS M5 has a powerful DIGIC 7. It is responsible for precise and fast focusing and recording continuous shooting speed – up to 9 frames per second.
Here is implemented an electronic image stabilization system with five axes for video shooting, which works particularly well in tandem with an optical stabilization objective.
Wireless technology is particularly important. These allow you to use your smartphone as a camera remote control and quickly share files and share them on social media, print wireless images.
This camera can be an excellent choice for advanced photographers and travelers interested in high quality images and compact system.
In our case, the Canon EOS M5 camera is presented in the "whale" configuration with a very important bonus. We have an ordinary EF-M 15-45mm f / 3.5-6.3 IS STM lens and a Canon Mount EF-EOS M adapter. The adapter allows you to use EF and EF-S lenses for SLR cameras with Canon mirrorless mirror cameras.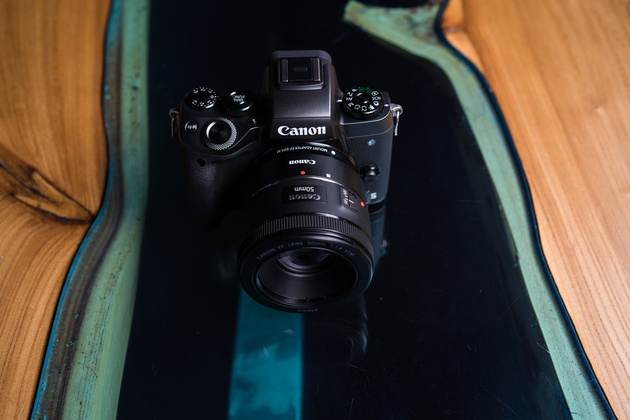 The EF-M lens park is completely renewed, but there is still no real portrait. That's why the EF-EOS M adapter came in handy: we completed the Canon EOS M5 kit and the standard 15-45mm lens with a simple and affordable "fifty dollars", but many loved ones – Canon EF 50mm f / 1.8 STM. Now, each person is testing a "portrait" objective.
We are confident that both a smartphone and a camera can help amateur photographers create great photos. It's time to find out what the iPhone 7 Plus and Canon EOS M5 are capable of.